Apple poised to release the 8GB iPhone 3GS for $99?
This article contains unofficial information.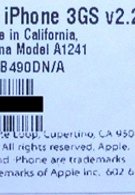 The 8GB iPhone 3G model has been riding the wave of success for approximately over 18 months and has been graced with an attractive $99 price tag. With yet another iPhone model slated to be released sometime in June, Apple may be looking to move an 8GB iPhone 3GS model into the same price point. One new owner of a refurbished 8GB iPhone 3G model paid close attention to the label that was placed on his box – he noticed that the packaged clearly indicates an 8GB iPhone 3GS. Unfortunately the refurbished iPhone he ordered was all he got out of the box. It can be assumed that it could all be a small typo on the label, but hopefully Apple may release some new information during their special event on January 26. Either that or actual new labels were accidentally mixed up with the older packaging. If the 8GB iPhone 3GS does come to fruition, its speculated $99 cost will make it extremely competitive – joining the ranks of some other well known $99 smartphone models available right now.
Apple iPhone 3GS Specifications
|
Review
via
Gizmodo