Apple patents new manufacturing technique for a "curved touch sensor"
30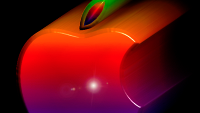 In the last couple of months, talk about curved screened handsets has multiplied dramatically. That could be due to the launch of the
Samsung Galaxy Round
and the more ambitious
LG G Flex
. Amid
speculation that the next iteration of the Apple iPhone will feature a curved screen
, Apple has been handed a patent for a manufacturing process that helps produce more accurate, curved touch sensors.
U.S. Patent No. 8,603,574 has been awarded to Apple for the process that deposits a conductive thin film over a flexible substrate while it is in a flat position. Once it is ready, the substrate is attached to a forming substrate and heated. Bottom-line? A curved touch sensor with no deformities and containing a thin film toughened by the high temperature annealing.
The advantage to using the process in the patent is that it allows for all parts of a curved glass display to be curved. Currently, some devices might only give off the appearance of being curved by using a flat substrate with a dome-like cover on top. This might give off a curved appearance to the user, but it also might lessen the touch sensitivity of the display because of the distance between the screen and the electrodes embedded in the thin film. Apple's manufacturing process would allow the curved display to be responsive.
The patent was originally applied for back in 2010 when curved screen handsets were just a gleam in manufacturers' eyes.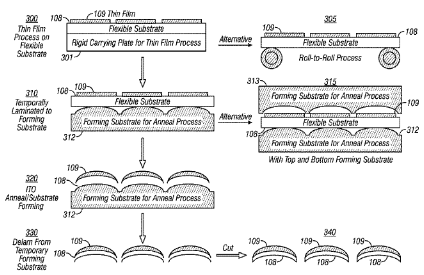 Apple's patent covers the manufacturer of curved touch sensors
source:
USPTO
via
AppleInsider