Apple patent wants to end autocorrect fails
19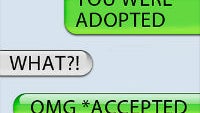 Let's start out by saying the fact that this patent was accepted is absolutely absurd. This is full proof that the US Patent and Trademark Office has no idea what it's doing when it comes to technology patents and should just stop. That said, this certainly does show a feature that could be very useful for iPhone users, even if it would greatly reduce the number of amazing autocorrect fails we get on the interwebs.
The patent describes a process by which iOS would highlight a word that you've typed that had been autocorrected. Like many other systems will underline a misspelled word with a red line, this would place a blue line under a word that has been autocorrected. The idea is obvious -- it would theoretically bring more attention to autocorrections and maybe reduce the number of times autocorrect fails happen.
Of course, in practice, it seems unlikely that such a system would really put a dent into all of the fun that we have with autocorrect fails. The main reason that autocorrect fails happen is because people send messages quickly without reviewing the text. Adding a blue line under a word doesn't seem like it would do much to fix that issue.
We'll have to see when Apple actually introduces the feature though.