Apple patent shows iPhone docking into a MacBook shell
21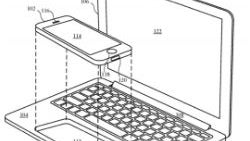 Apple has made it very clear that the MacOS and iOS software will not be converging, but apparently that doesn't necessarily mean that Apple can't at least dream about ways to make the hardware mingle a little more. As you should know by now, Apple has a habit of patenting all the things regardless of if those things will ever see the light of day, and we're kind of assuming at least one of these options will be left in the bin.
Not to be outdone by previous versions of the same idea, Apple has received patents for two hybrid designs that we've seen in various forms from the
Motoroa Atrix
to the
Asus PadFone X
and even the Microsoft Surfacebook. In one patent, Apple has an iPhone docking into a laptop shell, where the phone would then power the laptop experience (at least in part) and also be used as the trackpad of the device (that part at least is a new idea). Considering the trackpad on the new MacBook Pros are similar in size to an iPhone Plus, it's easy to see this idea has been bouncing around Apple. In the other form, an iPad would dock into the shell to become a touchscreen for the clamshell.
In Apple's version, the laptop shell would not be able to be used independently, but would include a GPU, which would presumably make it easier to power a desktop-like experience (although Apple has claimed the since the introduction of the A9 and A9x chips that it had "
desktop-class
" processors, so something seems off here.) As you might expect, the laptop shell is described as being all aluminum and thin, similar to a MacBook.
No word on what the software on-screen would look like, but we have to assume it would be an iPad-like experience of iOS.
What do you guys think? Would you want one of these?