Apple patent hints at solar charging integrated in the touchscreen
49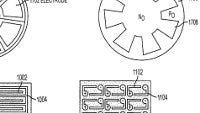 Apple is notorious with patenting everything it might or might not use in the future, after one unpleasant iPod-related patent fight, which it lost in 2006 against Creative. Since then, it has been scheduling monthly meeting when Steve Jobs was around, to determine what has been patented so far and what they could file for, and this tradition continues today.
We've seen solar-charging screen layers on an iPhone,
presented by Wysips
as far back as 2011, but now Apple is patenting integrated solar charging in the touchscreen itself. Instead of layers, the panel's electrodes serve as both touch sensors and solar power collectors, essentially allowing for the same thin devices we are used to with Apple, but with sun-charging capabilities.
A smart management unit then decides if the harvested energy will go to power the phone directly on the spot, or be stored in the battery for future use. If and when are we going to see such a solar system in an iPhone or iPad remains to be seen. Check out more ways to alternatively power your handset in the slideshow below.