Apple patent application shows off a plan to turn TouchID into a panic button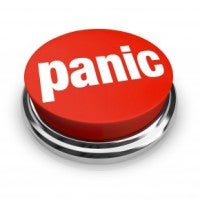 Back in May 2014, Apple filed a patent application with the USPTO that has just been published by the agency. The patent reveals a way for iPhone and iPad users sporting a model with TouchID, to lock down their device by using a specific finger to hold down the TouchID button. This would activate a "panic mode." The handset or tablet would freeze out requests for personal information, or would reset immediately.
The reason for including such a feature would be to protect a iPhone or iPad user who is being forced to unlock their device. A specific finger would be registered with the TouchID system as the one that would trigger the panic mode. Apple calls this digit the "panic finger."
While going into panic mode, the iPhone could also use the front-facing camera to take a picture or video of the criminal. The images would be sent to the user's iCloud account from where they could be turned over to law-enforcement. Besides activating the camera, panic mode could also open the microphone allowing for real time monitoring of the situation.
Eventually, Apple could set up TouchID to allow users to open certain applications with the touch of a specific finger. Again, this is merely a patent application and we have no idea when, or if, Apple will implement it.
source:
USPTO
via
BusinessInsider