Apple overtakes Google as the most valuable brand in the world, to the tune of $153 billion
24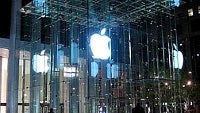 Apple, which
recently passed Microsoft in quarterly net profit numbers
, and has long passed everyone in the mobile industry as
the most profitable cell phone manufacturer
, now has another reason to brag.
According to WPP Plc,
Apple's brand recognition and value rose 84% last year
, to hit the astonishing sum of $153.3 billion. This is way more than the previous leader Google, whose brand is valued at $111.5 billion.
We are getting used to Apple breaking all kinds of records lately, but at one point being the
second largest company in the world by market capitalization
last year, and now having a name brand that costs the GDP of a small country, is really eye-popping.
Moreover, this is not a company of the old financial/oil order - we are used to see such numbers there - but rather a maker of consumer products. An interesting study would be to gauge how many people think of the fruit when they are told the word "
apple
", and how many think of the iPhone first.
source:
Bloomberg
Recommended Stories