Apple overhauls iAd prices, desperately trying to avoid "dud" status
5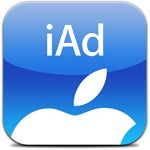 Faced with a struggling mobile advertising business, Apple is drastically altering the pricing structure for its iAd business in an attempt to turn around one of the rare "misses" for the company in the last five years. According to Ad Age, the minimum pricing will drop to $100,000, the last in a string of cuts since iAd first rolled out; at the time companies had to pledge a million dollars.
Additionally, Apple had been charging companies twice – a "cost per 1000 ads served" fee, as well as a click-through fee. Apple is reported to be eliminating the click-through fee, so the effective cost per ad will drop. Apple's iAd lost significant market share this year, as iAd went from a virtual tie with Google's AdMob in 2010, to seeing AdMob serve 50% more mobile ads this year than iAd.
To refresh your memory, Apple actually wanted to buy AdMob once upon a time. Google responded quickly, negotiating a more favorable set of terms with AdMob,
acquiring the business
for $750 million. In response Apple turned around and purchased
Quattro Wireless
, a competing mobile ad platform, for $275 million.
Initially the glitzy, high-priced ads sold out, but over time companies have proved
less interested
in Apple's take on mobile advertising, now landing in third place. Apple had originally intended to totally
close off iOS
to competing mobile ad platforms – which would have guaranteed them a large slice of mobile ad revenue – but the
Federal Trade Commission
got involved in the matter, and Apple has wisely decided
not to close off
their platform to competing products.
Much like Google's Chrome OS is an attack on Microsoft's traditional enterprise business, iAd is Apple's attempt to swipe a share of Google's traditional advertising business. Both efforts may yet place competitive pressure, but both companies are discovering that it's harder to do things outside the area of your expertise.
In the end all it determines for consumers is who makes money when we look at an ad-sponsored mobile app. But these sorts of behind-the-scenes shenanigans can end up driving other decisions in mobile, so it's worth keeping an eye on them.
source:
Ad Age
via
AppleInsider