Apple now offering the unlocked iPhone 4S in the US
16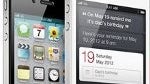 Apple has just updated their online store to finally give buyers in the US the ability to buy an
unlocked version of the iPhone 4S
in all three available capacities starting at the price of $649.
Purchasing an unlocked iPhone 4S will give you the ability to use the smartphone on
any GSM network
around the world. That is of course if you can manage to get a micro-SIM for the network that you wish to use it on. Apple made sure to specify that the unlocked version of the iPhone 4S will not work on CDMA networks such as Sprint and Verizon.
The 16GB iPhone 4S will burn a hole in your pocket to the tune of $649 while the 32GB and 64GB models will cost $749 and $849 respectively. All of the unlocked iPhone 4S models will be available in both black and white. The estimated shipping time for the unlocked units is currently 1-2 weeks.
Those may be some hefty price tags for a smartphone but it is to be expected when there is no contract involved to give you a subsidized price. Would anybody consider picking up a factory unlocked iPhone 4S?
source:
Engadget