Apple may have made iMessage for Android concepts with Material Design
29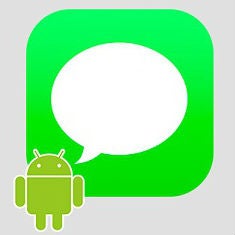 Okay so right off the top, let's clear something up: whether or not Apple made mock-ups of a version of iMessage for Android has absolutely no bearing at all on whether or not it is likely or even probable that Apple would release that app. Frankly, if we had to bet on it, we'd probably guess that Apple has no plans at all of doing so.
John Gruber of
Daring Fireball
said in a blog post that "little birdies" told him there have been mockups of iMessage for Android have been circulated around Apple. The mockups have ranged from iMessage with the standard iOS design all the way to a complete Material Design overhaul. According to Gruber, this is enough evidence to prove we can't assume Apple will never bring iMessage to Android, and we would agree on that. It's not hard to believe that a company like Apple would at least take a look at the idea of bringing iMessage to Android, regardless of if it follows through and makes it a reality.
The argument on one side is that iMessage is one of the best examples of a great product that keeps users hooked into the Apple ecosystem. So, under that theory, making iMessage for Android could spur an exodus of users to Google's platform. However, that idea is deeply rooted in just how deep a hook iMessage is. It's fairly reasonable to assume that the integration between Mac and iOS might be the bigger hook for many users and iMessage for Android would serve more to show Android users what they might be missing in the iOS world.
Ultimately, which platform you want is a very personal choice (we're quite divided here at PA), so the latter sounds good to us. But, we're still not putting bets on iMessage for Android any time soon.