Apple marketing chief Phil Schiller says Android's Face ID attempts will "all stink"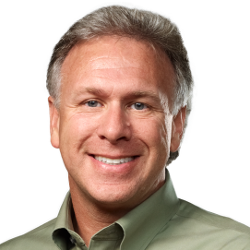 Apple has raised the bar for smartphones with the debut of Face ID on the
Apple iPhone X
. And that means that we are bound to see Android manufacturers start offering competing versions of the feature. But as far as Apple marketing chief Phil Schiller is concerned, there is no competition. When talking recently to Dutch website
Bright.nl
about Face ID, the Apple executive gave a three word review of upcoming facial recognition systems for Android devices. "They all stink," Schiller said succinctly.
Schiller, whose second tour at Apple started in April 1997, says that the Android versions of facial recognition won't work in the same way that Face ID works. He also pointed out all of the capabilities that Apple has asked the home button on the iPhone to do over the years, such as unlock the phone using Touch ID, verify identity with Apple Pay, activate Siri, switch between open apps, and close them. Face ID, he notes, had to replace all of these functions. The facial recognition system will verify the user's identity for Apple Pay, and by unlocking the handset, it allows the user to employ the gestures required to do all of the things that the iPhone home button used to do.
"They don't work in all the ways we need Face ID to work. We're very aware that through the years the simple thing, this Home button, that started as the way you click to get to the Home screen, grew into doing so many things for us. We added Touch ID, it took you to the multitasking screen, paged Siri, activated Apple Pay. All through this one mechanical button.

So for Face ID we needed the best way we know of to enable us to easily unlock our device with our face, in a protected way with the Secure Enclave, and support all these other things. We had to solve all of that. Other things that people have tried with face haven't been anything like that. Face ID is a very unique implementation."-Phil Schiller, head of marketing, Apple
We should see Android manufacturers start offering their own versions of Face ID sometime next year. At that time, we'll be able to better judge Schiller's ability as a reviewer. Somehow, we think that he is lacking the one quality that good reviewers need to have in order to make an honest evaluation. That would be impartiality.
source:
Bright.nl
(
translated
) via
RedmondPie