Apple likely to find willing customer base to harvest DNA data which may revolutionize research
33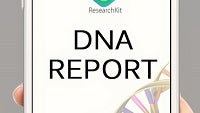 We have all heard or read about the grand plans Apple has
for its ResearchKit
, a set of tools that were made available in March, enabling researchers to gather data directly from opt-in users in various studies.
The first five applications allow end users to submit information about asthma, breast cancer, diabetes, heart health, and Parkinson's. The heart health study had more than 11,000 people sign up within the first day it was available.
Apple's ResearchKit is going to be part of an expanded vision, not only relying on user-inputted data for studies, but also allow studies where DNA samples can be collected and measured along with user delivered data. According to MIT Technology Review, Apple is working with scientists on ResearchKit for just such a purpose.
One of the studies being developed would look at causes of premature birth. It would combine gene tests with data collected from an expectant mother's iPhone. Down the road, it is conceivable that one could simply authorize sharing of his or her DNA to a study (iGenes?). Such an option could be leveraged via TouchID.
For the near-term, the studies being planned for DNA collection, the researchers, not Apple, will send kits to users to gather samples. Needless to say, if even a fraction of Apple's user base can be accessed for some of these studies, the data pool will be much larger than previously feasible. The mobile apps would make it easier to update and gather additional information as needed. The trove of data and user participation could spark the beginning of a sea-change in medical research.
source:
Business Insider