Apple launches its first dock for Lightning-equipped iPhones
38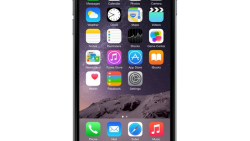 Until today, if you wanted to charge your iPhone in a dock, you had to go through third-party iPhone accessory makers. This changed today as Apple launched its first official dock for iPhones with Lightning charging connectors.
As all official iPhone accessories from Apple, the Lightning dock is very minimalistic, being composed out of a white base with a Lightning connector that sticks out, a 3.5mm jack for playing music on external speakers, and a Lightning power slot.
There's no slot for the iPhone to be placed in, but don't mistake this for poor engineering. Instead, the very fact that the official dock lacks a slot for the smartphone is what makes this accessory compatible with a wide range of iPhones.
The official iPhone Lightning dock from Apple is priced at $39, a bit steep compared to the price of third-party Lightning docks, which usually start at about $10.
9 months after launching the iPhone 6 and the iPhone 6 Plus, Apple has finally unveiled its first official charging dock for Lightning-equipped iPhones. Does the old saying that late is better than never still apply in this case?
Recommended Stories