Apple launched special edition Balmain-designed Beats that look stunning on Kylie Jenner
41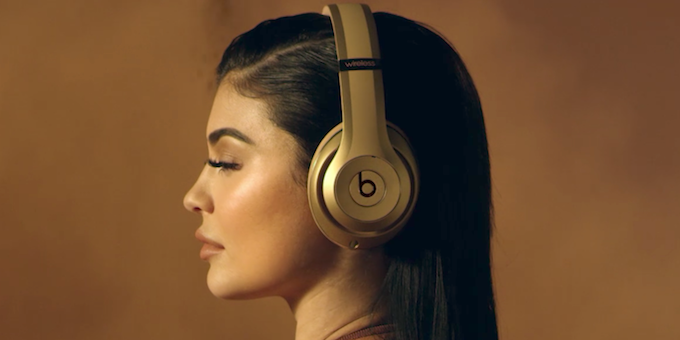 Kylie Jenner is Apple's endorsing celebrity for the fashion-inspired special edition Beats. You can easily see why...
Apple has just released special edition models of the Powerbeats3 Wireless Earphones and the Beats Studio Wireless Over-Ear Headphones, designed together with premium brand Balmain, and endorsed by Kylie Jenner. Both Kylie and the headsets look absolutely stunning in the promo videos and images, and we came up with a single word to describe the whole special edition ordeal – sexy!
The Balmain Powerbeats3 are not much different, as far as build and hardware are concerned, compared to the regular model, and it's safe to say they are virtually the same as the ones we already know. Nonetheless, the light pink, dubbed "Safari" color, definitely adds a classy touch to their look, which is strongly complemented by gold motives in the earpieces. The other color option, "Khaki", is darker than the Safari one, and gives the headset a more serious look, but is just as stunning as the light pink variant. There is the Balmain logo engraved right next to the Beats logo, which has also replaced the original two-color "Powerbeats" on the sides of each earpiece.
The Balmain Studio headphones are also not different, in terms of specs, to their vanilla counterparts. However, the special edition design changes a lot about the headset's visual image and gives it a rather fashionable look, instead of a bulky DJ-ey profile. Don't get us wrong, they are still as bulky as the original ones, but the matted Safari and Khaki hues, as well as the golden plaques and elements, make the headset look more like a fashion accessory than a piece of music production equipment.
Both of the special edition headsets come with matching color suede cases that feature the iconic coin-shaped Balmain zipper pulls and logo-engraved gold plaques on the front sides.
As far as price is concerned, the special edition releases are obviously more expensive than the regular variants, with the Balmain Studio headset selling at $599, compared to $379 for the non-special edition. The Balmain Powerbeats3 will cost you $245, as opposed to $199 for the regular piece.
Are they worth the price? Sure, if you are a dedicated Kylie Jenner follower and a lifelong fashion freak, then yes, definitely go for them.
You can take a closer look and order the special edition Beats at
beatsbydre.com
.