Here's who suffered most from Apple's 'at launch' prices leading to the iPhone 11
19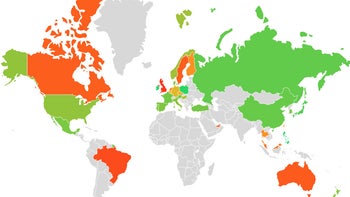 The OG iPhone was $499 at launch, while its 2019 equivalent the
iPhone 11 Pro
would likely start from $999. While it took a decade to double the nominal price in the US, globally iPhone prices have risen 70% on average when you account for things like inflation and new, cheaper models introduced.
That's the gist of the research done Darren Kingman for the credit-builders of
Self Lender
. While we know that the prices of the OG iPhone and Galaxy S were much lower than they are now, but the more interesting bit in the research is the mapping of a so-called "iPhone price index."

The basic idea is to gauge how much has the price of an iPhone increased since its introduction against the purchasing power of the buyer in various countries. You know, the real inflation of Apple's pricey iPhone when the nation's decade-long prosperity or economic demise is taken into account.
Long story short, we in the US have had it good since the Great Recession of 2008, and the price of an iPhone has increased only 54% since its inception as a product due to GDP and employment growth.
That is way below the global average but not below places like Russia and China where the price increase is 37% on average. Ireland and Poland have it the best, as their unprecedented real GDP growth means that for the average citizen, the price of an iPhone in 2019 currency hasn't budged much compared to what they had to pay for the OG.
The Philippines too, but there the iPhone price takes the highest percentage of the average citizen's purchasing power, so no comfort.
Who has it worse, though? Surprisingly, the champion is the UK, not in terms of absolute iPhone pricing (that's usually Brazil), but price increases compared to the purchasing power changes with a whopping 133% bump.
Next in line is Brazil with 127%, followed by places like... Canada, Sweden and Australia that are feeling the iPhone price increase pinch worse than most other countries. Ouch!