Apple is reportedly giving away two free months of iCloud storage for its U.S. customers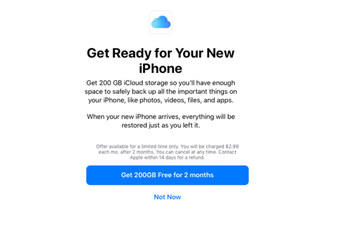 According to a Reddit thread, Apple has an unannounced promotion for its U.S. customers only. New and existing iPhone users are able to help themselves to 200GB of free iCloud storage for two months as long as they are a subscriber to one of the four major wireless providers in the states (view the image at the top of this story). That would be Verizon, AT&T, T-Mobile and Sprint. Oh, one other important note: those who already pay for iCloud storage are not eligible to take Apple up on this promotion.
The wording in Apple's promotion suggests that this two-month period is tied in to the coming release of the 2018 iPhone models. At least two of the expected three new handsets could be launched as soon as next month. With the free iCloud storage, someone purchasing a new iPhone will be able to back up the files on his or her current model and move them over to the new unit.
Here's the catch. After the two months expire, Apple will charge those who continue to use the storage a price of $2.99 per month. Of course, those who don't want to pay that monthly rate can always cancel before the free period comes to an end. Currently, all iPhone users can get one free month of iCloud when they sign up for the 50GB, 200GB, or 2TB storage options.
To claim your free cloud storage, click on the appropriate sourcelink below.