Apple is committed to excellence, looking forward, says Tim Cook
17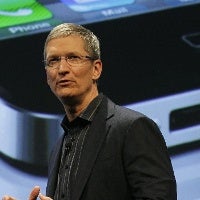 Tim Cook spoke at the Goldman Sachs Technology Conference yesterday for the first time as head of Apple, and while there were no new announcements or any other breath-taking unveilings, Cook had plenty of interesting things to say about how Apple works as a company and what are some of its plans.
Cook took a strong stand for the
unique culture of Apple
which Steve Jobs built - a company centered around only a few products, and not products that would simply sell well, but such that "can make a significant contribution to society." That's the ideology that has brought the iPhone and the iPad, two recent devices that have practically opened up new markets after their launch.
Tim Cook also expressed his deep concern for each and every Apple employee, about employee safety and even education.
Cook's composure and focus on the future is best seen in his comments about the
historic quarter Apple just had
:
"37 million is a big number.

It was a decent quarter."
Below you'll find an excerpt of the interview, explaining how Apple differs from other companies, and for the
full interview
head to the source link below.
I think the most important part is that second part. ["What are you determined to maintain."] Apple is this unique company, [this] unique culture that you can't replicate. And I'm not going to witness or permit the slow undoing of it because I believe in it so deeply. Steve [Jobs] grilled in all of us over many years that the company should revolve around great products and that we should stay extremely focused on a few things rather than try to do so many that we did nothing well. We should only go into markets where we can make a significant contribution to society — not just sell a lot of products. And so these things along with keeping excellence as an expectation of everything in Apple. These are the things that I focus on because I think that those are the things that make Apple this magical place that really smart people want to work in and sort of do not just their life's work but their life's best work.
There's no better thrill than to look out at audience - I can't see anything because of these lights - look at the audience and see people using iPhones" [And people at the gym using iPods, people at Starbucks using iPads] "These are the things that bring a smile to my face. There's no replacement or substitute for that. And so we're always focused on the future. We don't sit and think about how great things were yesterday. I love that trait because i think it's the thing that drives us all forward. Those are the things I'm holding onto. it's a privelege to be a part of it.