Apple is accused of anticompetitive practices in India
32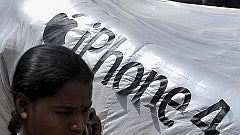 In India, it's illegal to sell a device locked to a specific carrier. And Apple has been accused of violating this rule. While
Apple
says they heard nothing of the complaint, the Competition Commission of India is initiating a probe into the matter.
The unlocked iPhone 4 is sold through two carriers, Airtel and Aircel, as well as other retail stores. Airtel and Aircel offer discounted data plans to offset the initial cost of the iPhone 4, and make use of their new 3G networks. We imagine this might be what has been construed as an anticompetitive practice.
A journalist visited one of these carrier's retail channels, and found no evidence of carrier-coercion. When the journalist asked about carrier exclusivity, the employee said that
"If your operator can provide you a micro SIM, you can use it on the iPhone 4."
Additionally, there are complaints regarding the inability to purchase iPhone apps outside of the App Store. Good luck with that one, India.
source:
PCWorld
Recommended Stories