Future iPhones could carry next-gen display tech developed by Foxconn
14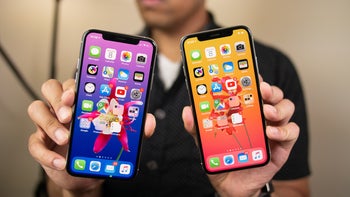 The iPhone 7, iPhone 8, and
iPhone XR
devices all use LCD displays. The
iPhone XS
and
iPhone XS Max
, on the other hand, use higher quality OLED panels. But eventually, neither of these technologies will be found on Apple's devices.
Micro-LED displays should solve OLED burn-in issues
According to a
report
by the
Economic Daily News
, iPhone manufacturer Foxconn is currently in the process of expanding its investment into micro-LED display manufacturing. Presumably, the company will be aiming to obtain orders from a wide range of companies once the tech is ready, but Foxconn's primary focus is said to be future iPhone display orders.

Unlike the LCD panels found on certain iPhones at the moment, micro-LED displays require no separate backlight because the individual pixels emit light on their own. This means that, much like OLEDs, they can be made much slimmer than the equivalent LCD counterparts.

The downside to OLED is that it relies on organic matter – the 'O' in OLED stands for organic. This generally isn't an issue in the short-term, but after long periods of use the individual pixels can show signs of deterioration, an issue more commonly known as burn-in. And it is here that micro-LED panels come into play.
As opposed to OLED displays, micro-LED ones include no organic substances whatsoever. Essentially, this allows them to offer the deep blacks and high-contrasts of OLEDs while also showing no signs of wear and tear like LCD panels. Also, as an added bonus, micro-LEDs should be both brighter and more efficient.
The Apple Watch could benefit from the tech before iPhones
Apple, just like Foxconn, is apparently investing heavily into micro-LED tech for use in its future products. In fact, just over a year ago
Bloomberg
reported
that Apple had a secret manufacturing facility in Santa Clara, California that was being used by 300 engineers to design and develop the displays.

As for when micro-LED panels will make it to market, the expectation at the moment is that they won't be ready for mass production until 2023 at the very earliest. And even then, it's unlikely to be used on iPhones straight away.
Reportedly, Apple's initial plans for the tech involve using it on future
Apple Watch
models. If Apple is pleased with the yield rates and overall quality of the panels, eventually the technology should make its way onto iPhones.
This implementation strategy largely mimics Apple's initial plans for OLED. Although the displays weren't used on iPhones until the 2017 iPhone X, the Cupertino giant had been using the panels on its Apple Watch models since the original launched in April 2015.
Apple's near-term display plans: OLED & mini-LED
Regarding Apple's near-term plans, it's been reported that the 2020 iPhone lineup will
switch to OLED exclusively
, which means the third-generation iPhone XR will finally ditch the LCD display.

Moving into 2021, analyst Ming-Chi Kuo recently predicted that Apple could start adopting mini-LED displays. This technology is essentially a less advanced version of micro-LED – it's less dense and less efficient – but it should solve the current durability issues that surround OLEDs.
Reportedly, the technology will first be used in Apple's 2021 lineup of MacBooks and iPads. Speaking of which, the latter is also expected to
offer 5G connectivity
for the first time, around one year after the iPhone introduces access to the next-gen networks.
It's unclear at the moment if Apple has any plans for mini-LED displays on the Apple Watch or if the Cupertino giant will simply skip the technology and wait for micro-LED panels to become available.