Your iPhone's NFC will suddenly be able to do more because... Brexit
4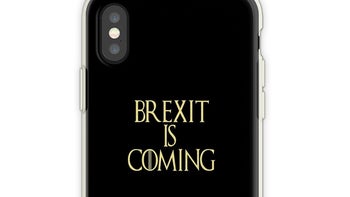 As a highly unexpected but still pleasant side effect of the UK's Brexit referendum, Apple will unlock more of the
iPhone's NFC
features than its handsets shipped with. Those poor expat souls that are caught in the Brexit crosshairs will now have to re-apply for residence permits and such but since there are millions of those in the UK, the government decided to throw them a bone with an app that speeds things up.
The app only asks the downtrodden expats with a British mortgage but not British citizenship to fill a request form, take a picture, and scan their EU passport with the NFC chip on their phone. The thing is, however, that those who only have iPhones handy, won't be able to read the smart passports' NFC-scannable details, as Apple only supports the NDEF data format at launch. Back in March, the UK home secretary Sajid Javid went on record for the Guardian to promise that:
I've had numerous conversations with Apple at the highest levels to ensure everyone can use the app. Together we've been working hard to find a solution that will allow the app to work on their devices. I'm pleased to confirm that Apple will be making the necessary changes and the app will be working on their mobile and tablet devices by the end of the year.
Whew, and now
NFC World
is reporting that the UK government's negotiation process with Apple is indeed finished, and the EU passport data format that can be scanned with NFC will be added to iPhones young and old. Thank you,
EU Exit: ID Document Check ap
p, for being at the forefront of mobile technology.
Mr David was quick to point out that even though the Home Office app excluded nearly half of all phone-owning expats by only providing a way to scan it on an Android phone, there are 50 locations to go and get your passport scanned, or you can get assistance over the phone. "
Our EU Settlement Scheme is now up and running and after a successful launch, over 280,000 EU citizens have applied so that they can continue to live their lives as they do now
," he added, assuring exactly nobody just yet on the hot topic of Brexit.