Apple iPhone 6 may finally bring 128GB model
83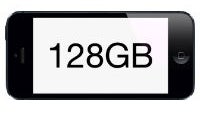 Ever since it became obvious that Apple wouldn't be adding any options for expandable storage on the iPhone (which occurred somewhere around June 29th, 2007; when the first iPhone launched), customers have been asking for larger storage options for the handset. It wasn't until 2011 and the iPhone 4s that Apple introduced the 64GB model, and now it looks like there may be a higher storage option soon.
A new leak is showing component records for Toshiba NAND Flash storage to be used in an upcoming iPhone. Unfortunately, there are still a lot of questions around this news. First of all, we don't know if this is actually a storage component for the iPhone 6 or the rumored 5.5-inch iPhone. There has been talk that the 5.5-inch iPhone would be the "premium" model, which could mean it would get the higher storage tier instead of the smaller iPhone 6.
The other issue of course is the price. We already know that Apple and others like to charge an
incredibly unwarranted premium
for storage. There is always a small chance that Apple would remove one of the lower storage tiers and put the 128GB model in the highest price point of $399 on contract, or $849 off contract. Or, there is also the higher likelihood that a 128GB iPhone could be a $100 premium on top of that price.