Apple iPhone 6 and iPhone 6 Plus specs review
48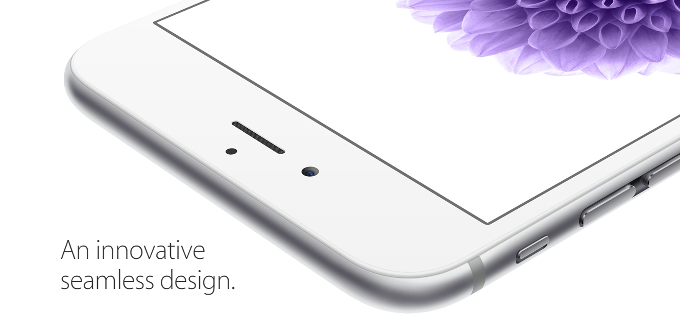 The new Apple iPhone 6 and iPhone 6 Plus have finally gone official, putting an end to all speculations, and finally showing what Apple has really been busy with.
After the company started designing its own processors with Swift in the Apple A6 (on board the iPhone 5) and refined this with the even deeper Cyclone in the Apple A7 (on the iPhone 5s), it's time to up the stakes: welcome the Apple A8, the system chip found in the new iPhone 6 and iPhone 6 Plus. Yes, both share the same core silicon and the same camera, but there are some subtle differences.
Design
The most visually noticeable change in the new iPhones is in their design. Gone are the times of sharp edges and flat sides - in the iPhone 6 versions Apple goes for an iPad mini-like style with a curved edge on both devices. The appearance has not changed drastically, but you can instantly note the evolution of design. Apple is still using the same quality materials: aluminum all around, with only a tiny flashes of plastic on the back of the phone for better reception.
Both the iPhone 6 and iPhone 6 Plus come with the fingerprint recognition courtesy of Touch ID, and both have now got their power/lock key on the right side so you can easily reach it. Volume buttons are on the left.
Display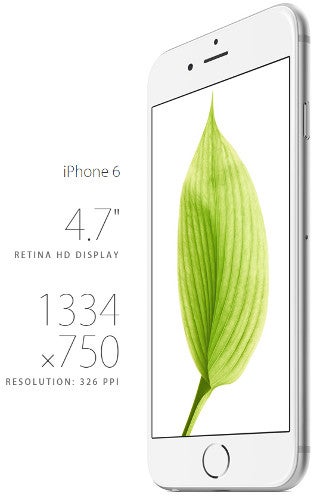 Retina HD display with improved polarizer
The 'bigger than bigger' motto for the iPhone 6 Plus is a clear indication that times have changed at Apple: we now have a 4.7-inch iPhone 6 and a 5.5-inch, phablet-sized iPhone 6 Plus.
The resolution has also changed, and Apple now claims both have 'Retina HD', but the actual resolutions differ: the iPhone 6 boasts a resolution of 750 x 1334 pixels, while the iPhone 6 has 1080 x 1920 pixels. The 'Retina HD' moniker is official even though the sharpness of the 4.7" iPhone has remained the same with a pixel density of 326ppi. The title is deserved for the iPhone 6 Plus with a higher, 401ppi pixel density.
Brightness comes in at 500 nits (typical), which is the same as with all previous iPhones, and should result in great outdoor visibility for both new handsets. Interestingly, Apple claims to have this new technology of "dual-domain pixels on the photo-aligned IPS display that give you a wider angle of view". What is that and how does it work? We're yet to find out.
Turning over to colors, Apple claims that both displays cover the full industry-standard sRGB color gamut, and that's a good thing - Apple has so far shipped very well calibrated screen and we expect the trend to continue with the new iPhones.
Interface: iOS 8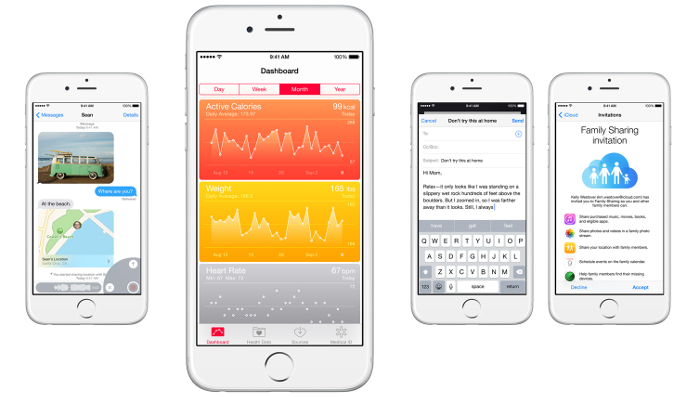 There are no surprises with the interface the two new iPhones are running: it's iOS 8. The new version of Apple's operating system adds more under the hood than on the visual side, as it retains the novel flat and modern looks of iOS 7.
Of course, the new Health Hub and Passbook updated with Apple Pay capabilities are the biggest highlights of iOS 8. The Health Hub has already been talked about and it basically aggregates data about your vitals from various gadgets including the iPhone and Apple Watch, but what's a bit less talked about is the new Apple Pay. Both iPhones now have an NFC chip, and that can be used neatly to replace your wallet. You can use this feature to pay in Starbucks, McDonalds, and many others.
Processor and Memory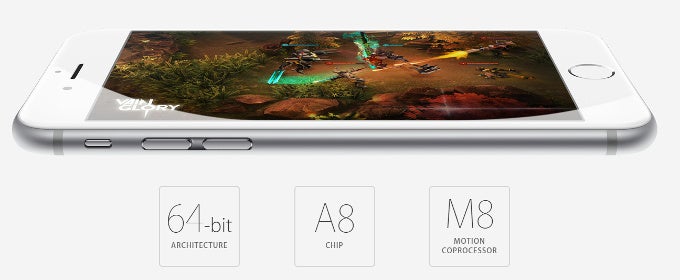 The biggest highlight of the new iPhones is the new Apple A8 system chip. Apple revealed that it has successfully made the jump to 20nm manufacturing, and that alone is a huge boost in productivity and efficiency. Apple is one of the first to get 20nm chips in a mass produced devices.
The Apple A8 is also 25% smaller than the A7, yet at the same time it features over 2 billion transistors. In comparison, last year's A7 had 'more than 1 billion', so we have nearly twice as many transistors, a huge jump in just one year.
Naturally, the new Apple A8 comes with a 64-bit-enabled system chip. The iPhone 5s started this, and with most top apps already running on 64-bits, the Apple ecosystem has already made the transition.
Apple breaks new ground when it comes to internal storage. The basic iPhone 6 and iPhone 6 Plus models start at 16GB, but rather than going to 32 gigs, the next version steps up directly to 64GB of internal storage. We now also have a third model with 128 gigs of included storage on both sizes of iPhone. Expandable storage via microSD cards is still nowhere to be found, though.
Camera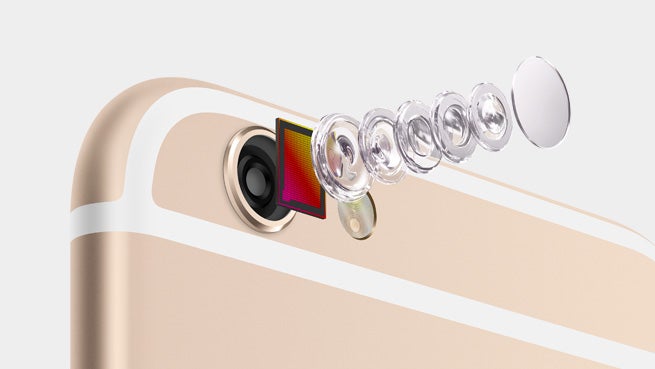 The iPhone 6 and iPhone 6 Plus both feature nearly identical cameras: 8-megapixel ones with 1.5µ pixels.
We're glad to see Apple moving the conversation from megapixels to a more comprehensive one that includes pixel size. Comparatively speaking, many will be quick to point out that others have 13-megapixel and 16-megapixel cameras, and pixel peepers would say that this is an unambiguous advantage, but what this misses is the pixel size that makes a big difference when you go to those very small, 1.1µ pixels. Problem is that such tiny pixels are not particularly good in low-light capture, and it is one compromise that Apple does not want to make. Overall, the take-out is that we should not rush and oversimplify by saying 'less megapixels means worse camera'. The new iPhones also come with new camera sensors. We don't know whether those are necessarily larger (we'd guess so), though.
In terms of optics, we have the same five-element lens, but this time with a wider, f/2.2 aperture (older iPhones had an f/2.4 one) and a sapphire cover.
What's notable, however, is far more than just the change in hardware. The new iPhone camera app gives you much better control over your images with exposure control, a new burst mode, and more. Take a look at the first camera samples below.
In terms of video, Apple continues supporting 1080p, so there is no 4K capture capability. However, you now also have the option to record 1080p at 60 frames per second in addition to the traditional 60fps option. A new slo-mo mode allows you to capture a twice the frame-rate for a twice more pronounced effect: 720p at 240fps.
Also, while being nearly identical, the iPhone 6 Plus has got the benefit of optical image stabilization, while the iPhone 6 will only have digital stabilization.
Battery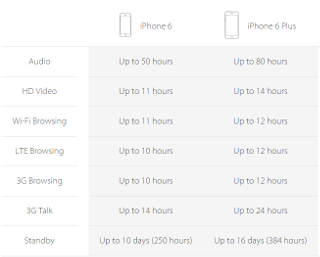 There is another important difference between the iPhone 6 and iPhone 6 Plus: the latter one has the larger battery that also lasts longer, but both have better battery longevity. Here is how battery life breaks down on paper:
iPhone 6 talk time | Internet use | Video playback: 14 hours on 3G | 10 hours | 11 hours
iPhone 6 Plus talk time | Internet use | Video playback: 24 hours on 3G | 12 hours | 14 hours
Conclusion and expectations
All in all, the iPhone 6 and iPhone 6 Plus are huge upgrades that deliver on all fronts, and most importantly: they have indeed the larger screens that so many people have been wishing for. Not all people will like the gigantic, phablet-sized iPhone 6 Plus, but it's clear that there are many, and the more universal, 4.7-inch iPhone 6 size will appeal to a broader category.
Apple is also on the forefront of technology in the new iPhones: it is one of the first companies to start selling phones with a 20nm Apple A8 chip and this alone will bring huge performance and battery improvements. The decision to stay at 8 megapixels in the iSight camera counters the market trends, but keeps pixel size reasonable, and the first camera samples speak admirable in favor of it.
With all those, and the new features like Apple Pay, the growing ecosystem with devices like the iWatch, and the new iOs 8, our expactations are for a head start for this two new iPhones and record-busting sales.