Apple iPhone 6 Plus vs LG G3 vs Sony Xperia Z3: specs comparison
12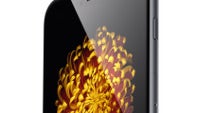 For the longest time, the industry was split on whether Apple really has a phablet-sized iPhone planned, not least because the company has, on numerous occasions, highlighted the compact form factor of its handsets. In fact, size precisely was one of several major differentiating factor between Apple's iPhones and the entirety of the Android world, which had moved towards five and above inches of screen real estate a while ago. As it turns out, however, Apple obviously felt compelled to finally address the growing demand for a larger-screened iOS device that is not a tablet, and it did.
Indeed, the iPhone 6 Plus is Apple's largest smartphone to date with a massive, 5.5-inch display and a resolution of 1080 x 1920 pixels. Despite its lengthy diagonal, the iPhone 6 Plus is nevertheless a pretty slender device and its profile measures in at just 7.1 mm (0.28 in). Inside that body, Apple has outfitted its first phablet with an 8-megapixel camera with optical image stabilization, a custom-designed, 64-bit dual-core A8 processor, and a Touch ID fingerprint sensor.
How does the above package compare with the competition, however, down on the specs level? Find out the answer right below!
Oleophobic coating, Scratch-resistant glass, Ambient light sensor, Proximity sensor
Ambient light sensor, Proximity sensor
Oleophobic coating, Scratch-resistant glass, Ambient light sensor, Proximity sensor
Qualcomm Snapdragon 801 8974-AC
Qualcomm Snapdragon 801 8974-AC
Apple A8
Quad-core, 2500 MHz, Krait 400
Quad-core, 2500 MHz, Krait 400
Dual-core, 1400 MHz, Cyclone ARMv8-A 2nd gen., 64-bit
Adreno 330
Adreno 330
PowerVR GX6450
32GB
16GB
128GB, not expandable
Android (6.0 Marshmallow, 5.1 Lollipop, 5.0 Lollipop, 4.4.2)
Android (6.0 Marshmallow, 5.1 Lollipop, 5.0 Lollipop, 4.4.4)
iOS (12.x, 11.x, 10.x, 9.x, 8.x)
19.00 hours
the

average

is 11 h (660 min)
14.00 hours
the

average

is 11 h (660 min)
22.8 days (548 hours)
the

average

is 29 days (688 h)
37.1 days (890 hours)
the

average

is 29 days (688 h)
16.0 days (384 hours)
the

average

is 29 days (688 h)
21.00 hours
the

average

is 0 h (0 min)
24.00 hours
the

average

is 0 h (0 min)
23.0 days (553 hours)
the

average

is 0 days (0 h)
25.0 days (600 hours)
the

average

is 20 days (472 h)
3G: 12 hours; LTE: 12 hours; Wi-Fi: 12 hours
Single camera
Single camera
Single camera
13 MP (OIS, Laser autofocus, BSI sensor)
20.7 MP (Autofocus, CMOS image sensor)
8 MP (Sapphire crystal lens cover, OIS, PDAF, BSI sensor)
Aperture size: F2.4; Focal length: 29 mm; Sensor size: 1/3.06"; Pixel size: 1.12 μm
Aperture size: F2.0; Focal length: 25 mm; Sensor size: 1/2.3"; Pixel size: 1.12 μm
Aperture size: F2.2; Focal length: 29 mm; Sensor size: 1/3"; Pixel size: 1.5 μm
3840x2160 (4K UHD) (30 fps), 1920x1080 (Full HD) (30 fps)
3840x2160 (4K UHD) (30 fps), 1920x1080 (Full HD) (60 fps)
1920x1080 (Full HD) (60 fps), 1280x720 (HD) (240 fps)
OIS
HDR, Continuous autofocus, Picture-taking during video recording, EIS, Video calling
OIS, Time-lapse video, Continuous autofocus, Picture-taking during video recording, Video calling, Video sharing
2.1 MP
2.2 MP
1.2 MP
1920x1080 (Full HD)
1920x1080 (Full HD)
1280x720 (HD)
5.76 x 2.94 x 0.35 inches (146.3 x 74.6 x 8.9 mm)
5.75 x 2.83 x 0.29 inches (146 x 72 x 7.3 mm)
6.22 x 3.06 x 0.28 inches (158.1 x 77.8 x 7.1 mm)
5.26 oz (149.0 g)
the

average

is 6 oz (171 g)
5.36 oz (152.0 g)
the

average

is 6 oz (171 g)
6.07 oz (172.0 g)
the

average

is 6 oz (171 g)
Back: Plastic
Back: Glass; Frame: Metal
Back: Aluminum