Apple iPhone 6 Plus: all the new features
25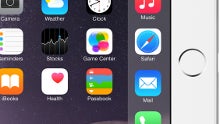 Apple just outed a ginormous iPhone, the kind that would make Steve Jobs choke if someone told him that the modest 3.5" screen device he conceived in 2007 will grow up to be a big 5.5" boy seven years later. Now we know that is why Apple rented the larger hall of Flint Center in its home town of Cupertino, instead of the usual Yerba Buena casa. The Flint Center is an iconic location for Apple: it's the place where the company unveiled the iconic Macintosh 30 years ago in 1984, and that's also where the colorful iMac started Apple's revival in 1998.
This new
iPhone 6 Plus
fits its name perfectly, as it calls all the new features of the 4.7"
iPhone 6
, and raises higher screen resolution, larger battery, and optical image stabilization for the camera. The interface has also been remodeled for the new realities of a phablet chassis size, so let's recap all the new features of the new iPhone 6 Plus.