Apple iPhone 5 is a hot seller on the Gaza Strip
86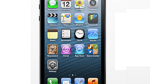 Priced at double its cost in the United States, the
Apple iPhone 5
has become a hot seller on the Gaza Strip. The device reaches the area via the use of
smuggling tunnels
and is available in the Strip before it will arrive this December in Israel, known as the high-tech mecca in the Middle East. The Apple iPhone 5 is actually considered contraband in the Gaza Strip as both Israel and Egypt try to block entry into the area of anything that can be used for military purposes.
"I ordered 30 and I've sold 20 so far. We can order as many as we want. But most people are waiting for the price to go down. They're pretty expensive."-Apple iPhone 5 dealer in the Gaza Strip
The Apple iPhone 5 has been seen in the Gaza Strip for about two weeks and three mobile stores in the area have the handset on sale. The 16GB version was priced at 4,500 Israeli shekels ($1,170USD) while the 64GB model was priced at 5,700 Israeli shekels ($1,480 USD). That compares with off contract pricing at $650 and $850 for the 16GB and 64GB models, respectively, in the states. One dealer, who had ordered 30 Apple iPhone 5 units and had sold 20 of them, said that most people are waiting for the price to drop since
current prices are expensive
. That there are any buyers in the region at all at those prices is amazing considering the weak economy in an area of the world that requests and receives aid. Then again, that might not seem so unusual in an area of the world where it seems that people would rather miss eating for a week in order to afford the latest hot smartphone.
Moving to a totally un-related story from the Middle East, it turns out that Apple Maps has done it again. Israel's Maariv newspaper last week reported that the new Apple mapping application for iOS 6 incorrectly does not list Jerusalem as the capital of Israel, and the built-in World Clock app shows Jerusalem as a city that doesn't belong to a country.
source:
Reuters