Apple iPhone 4S users consume twice as much data as the iPhone 4
12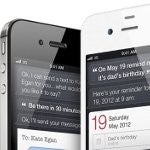 According to a study done by a company known as Arieso, users of the Apple iPhone 4S consume twice as much data as the Apple iPhone 4 which is more than likely the case thanks to the data hog known as Siri.
In addition to doubling up the data usage by the iPhone 4, the iPhone 4S is also surpassing data used by the Apple iPad. Arieso says that the spike in data usage is due to the increasing use of online based services such as the previously mentioned Siri. For the sake of comparison iPhone 4 users consumed 1.6x the amount of data as the iPhone 3G.
Should the revelation that iPhone 4S users consumer twice the data surprise you? Absolutely not. People are using their phones more and more every day and that goes for every smartphone, not just the iPhone. If we weren't using our phones to their greatest potential then you wouldn't see any data caps or speed throttling. Whenever the iPhone 5, or iPhone 6 or whatever it is going to be called comes out then you can almost guarantee that will use even more data than the iPhone 4S.
For those of you that have owned an iPhone 4 and an iPhone 4S, have you noticed that you are consuming a lot more data? Tell us what you think.
source:
Engadget