Apple iPhone 4S pre-orders still available at Target Mobile
39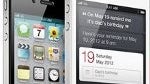 If you are disappointed in the now 4 week estimated shipping times of the Apple iPhone 4S then head on over to your local
Target Mobile
because
pre-orders are still available
and you can have your new smartphone next week.
Target Mobile has been offering pre-orders of the iPhone 4S since last Friday. As of now they are
only offering them for AT&T and Verizon
. All models with the exception of the black 32GB iPhone 4S for AT&T is still available.
Today, October 13, is the last day that they can accept pre-orders
for any of the iPhones. The cutoff date for getting the device on launch day was Monday, October 10. Even though the devices won't arrive until mid-next week that is still a lot sooner than the 4 week wait time that Apple is currently estimating for new orders.
At the time of purchase a
$50 deposit is required
for the pre-order. When your iPhone arrives at the location in which it was pre-ordered the $50 will come off of the total price of the handset. Hurry though because like we said today is the last day of pre-orders since tomorrow is launch day.
Anybody getting ready to head over to their local Target Mobile now?