Apple iPad Pro unboxing
34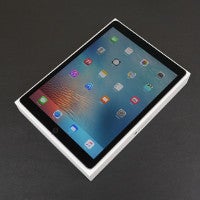 Diversity is always a good thing, right? Consumers, in particular, benefit from diversity when it relates to good and products. For Apple, you can say that they don't necessarily have a vast collection of devices in each of its product segments, but their iPad line has gone from a single model, to a total of two in recent years. Both the iPad Air and iPad mini lines have proven to be the biggest sellers in the tablet market. However, they're adding yet another new model to diversify its iPad lineup just a smidgen more.
Enter the
iPad Pro
, the largest iPad they've produced to date – one that intends to fill that gap that has often been left unfulfilled by pure tablets and laptops. We've just received our review unit, and we're eager to see how the iPad Pro can become that bridge device that brings the best of that laptop productivity with that sleek and compact size of tablets.
The packaging is typical Apple, as it's very minimalist in what it shows on the box. Front and center, we have a profile view of the iPad Pro, indicating how sleek and svelte this 12.9-inch tablet really is. Around the sides, we have nothing more than printed iPad Pro names – while the rear indicates what capacity and color scheme we're dealing with. In our case, we have a 32GB space grey iPad Pro.
Taking off the cellophane from the packaging, then lifting up the front compartment of the box, we're instantly given a glimpse to the iPad Pro. Seriously, it's a monster of a tablet when it comes to its size. There's just no way of hiding its ginormous real estate, but for a tablet of its size, it sports one skinny chassis that's uniform. Underneath that, we have the usual Apple goodies that consist of the documentation, Apple decals, an extra-long Lightning cable, and wall charger. You can say that it's typical Apple with this packaging.
We'll be test driving the iPad Pro to really get a feel and gauge its level of worth. There have been so many hybrid laptops that vouch superior productivity over the iPad, like the Microsoft Surface Pro 4 very recently, but we'll save our judgment until we get cozy with Apple's new toy and see whether or not it's something worth investing in.
Expect our in-depth review soon!
Apple iPad Pro unboxing