Apple now offers a USB-C to headphone jack dongle for the new iPad Pro
21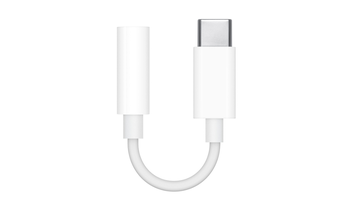 Three years after removing the popular feature from its smartphone lineup, Apple today unveiled a brand-new pair of iPad Pro models that, rather unsurprisingly, lack headphone jacks.
Due to this decision, Apple
has added
a new USB-C to 3.5mm headphone jack dongle to its online store at a cost of $9. However, users shouldn't count on receiving one free in the box. After all, the Cupertino-based company quietly removed all headphone dongles from its iPhone boxes last month and the new iPad Pros are no different. This means that those of you who wish to use wired headphones will need to buy one. Another detail worth noting is the connector. Because the iPad Pros no longer include the lightning port, the previous accessory bundled in iPhone boxes won't be any use either.
In addition to the new headphone dongle,
Apple
also introduced two other USB-C related accessories that should complete the new iPad Pro models. The first is a 1-meter charge cable that connects to the included 18W charger and costs $19, and the second is a USB-C to SD Card Reader dongle valued at $39 that allows people to edit files directly from SD cards, without needing to transfer them over to the tablet.