Apple iPad Air goes to the firing range, loses against bullets, BBs, dirt and Google Glass
18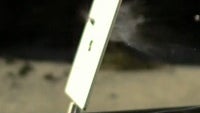 High resolution slow motion video is neat to watch regardless of the subject matter. However, seeing the effect of what a high-caliber bullet does to a stationary target in slow-motion is a horse of a different color.
Love them or hate them, the impact of a round fired from a rifle is a disrupting event to its target. Richard Ryan takes a couple prize picks from his arsenal along with a new
Apple iPad Air
and we get to see happens.
It is more than just a bullet fest too. First, we get to see Ryan blast a 50 caliber round through the iPad from the perspective of Google Glass. The round hits its mark at roughly 2,800 feet per second, going so fast that the iPad barely moves.
In the next series, we see what the iPad gets subjected to before that fateful bullet, and the initial results are somewhat surprising. The iPad Air takes a fall in some loose dirt and the screen cracks immediately. The rest of the drop tests build on that damage.
Then Ryan whips out an Airsoft MP7 and unloads a bunch of pellets on the screen, peppering the landscape. Finally, we see how to slice an iPad lengthwise and widthwise using a high-powered rifle. The slow-motion footage is impressive as always and it shows some great precision used in pursuit of "disassembling" the new iPad Air.
source:
RatedRR
(YouTube)