Apple iPad 2 Smart Cover Demonstration
15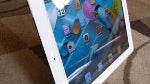 At the unveiling event for the Apple iPad 2, we were all introduced to a nifty accessory that borderlines necessity in some ways if you happen to purchase the tablet. Similar to the iPhone 4's bumper case, the
Smart Covers
that were concocted by Apple's team seems to be a complementing accessory that doubles as both as a protective case and a stand. Priced at
$39 for the polyurethane variants
, which are offered in a rainbow of colors, it sure looks to be a dead lock item that you'll want to pick up. Conversely, you also have the option of purchasing the more premium feeling
leather versions that boast a $69 price tag
.
Obviously, the first thing to come into our mind as we snapped the Smart Cover onto the iPad 2 is that it
only protects one side of the unit
at a given time – leaving the other complete exposed to the environment. So when we have the display covered by the Smart Cover, our natural instinct is to keep it laid on its back, but when we thought more about its brushed aluminum rear cover, we simply ended up turning it around so that the iPad 2 is lying on top of the Smart Cover.
Thankfully, the
magnets grip on tightly
onto the left edge of the iPad 2 and require some additional force to remove. Moreover, the other magnets alongside the other edge of the Smart Cover snaps shut onto the iPad 2 – thus giving it a
solid close feel
without adding much thickness to its already razor thin profile. At the same time, the display automatically powers off, but when the magnets of the Smart Cover are dislodged from the iPad 2, the display powers back on.
Interestingly enough, we were baffled at first how to convert the Smart Cover into its stand position. After fumbling around for a bit, we finally figured it out as we folded it into a
triangular shape
. From here, we managed to lay the iPad 2 at an angle which makes it more comfortable to type, and also into the
pedestal position
that's more conducive for watching movies. Although we were skeptical about its retention, it manages to support the weight of the iPad 2 – but it still doesn't give us enough peace of mind since a little bit of force seems to knock the iPad 2 off its position. Nevertheless, it's one accessory that you'll want to consider picking up thanks to its double functionality. Albeit, we'd still recommend that you look into buying a screen film cover to protect its display concretely as well.
Recommended Stories