Apple iPad 2 Photo & Video Samples
21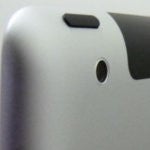 Initially, it's a little bit difficult to fathom seeing people whipping out their iPad 2 from underneath their jacket or something to quickly snap a candid shot, but it's nonetheless nice to see the functionality now on board with the tablet. Since we've been checking out Apple's latest creation, we decided to simply share with you some snapshots that we took to better illustrate and break down its quality.
For starters, the one annoyance we have using the camera interface is the
horrendous placement of the shutter key
when you're holding the iPad 2 in landscape. Naturally, our first instinct is to grasp the iPad 2 on its sides with both hands to provide ample grip, but unfortunately, the shutter key is placed squarely towards the bottom middle of the interface – and too far to comfortably reach with our thumbs. However, it's not much of an issue in portrait since we obviously use both hands to hold onto the bottom edge of the iPad 2.
As for the rest of the interface, it's pretty much a direct port of what's used on the iPhone 4, but instead of finding touch focus, we're treated to something more like
touch exposure
. Sadly, the iPad 2 shoots photos at the
resolution of 960 x 720 pixels
– which is the same as the current generation iPod touch. Moreover, it
lacks auto-focus
to precisely sharpen specific items in your shot – which tends to make close-ups a bit fuzzy looking. Lastly, it does have the ability to shoot videos in
720p at 29 frames per second
, but from our quick video, we're not all that excited by its output. Check out the gallery and tell us your thoughts about the iPad 2's photo and video shooting abilities.