Apple iBooks to have exclusive on Breaking Bad: Alchemy title
4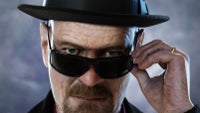 One of the
most popular
television shows of recent times is coming to an end. Imagine how
Breaking Bad
might have been pitched to network suits over the phone. "
Yeah, this is a show about a high school science teacher diagnosed with cancer and facing a mid-life crises. So he cooks some killer crystal meth using his science abilities and becomes a major producer. Oh, his brother-in-law is an DEA agent. And there's this guy who owns a chicken restaurant that...hello...hello?
"
But the series not only works, it became a huge hit with solid writing and acting that makes this whole unbelievable plot seem real. The show keeps you on the edge of your seat each week. And now that the series is down to its last few episodes, a new title called
Breaking Bad: Alchemy
has been made available in the Breaking Bad iTunes collection, which is a collection of media related to the series, and offered through iTunes. We're talking about music from the show, podcasts from the actors, apps and more. Each chapter shows a different look at the series, from the actual chemistry and science used by the show, to the music. The iBook is available
exclusively
from iTunes for $7.99, a price that is expected to rise once the series starts on August 11th on AMC.
Breaking Bad: Alchemy
will be updated once the series ends.
"Breaking Bad: Alchemy – Table of Contents
• Chapter 1: Catalyst – A full interactive timeline of the entire series, highlighting pivotal moments, characters and iconic props from the series
• Chapter 2: Breaking Down Breaking Bad – Explores the influences of Breaking Bad and features "The Cost of Doing Business" timeline. • Chapter 3: Tweak of Chemistry – Explore the chemical compounds, devices and forces used throughout the series.
• Chapter 4: Visualize This, B*****es – Dedicated to the visual style and art of Breaking Bad both within and inspired by the series
• Chapter 5: Crystal Clear – Dynamically experience the unique camera angles and color techniques cinematographers used throughout the series to achieve the visual style of Breaking Bad
• Chapter 6: Amplitude – Explore the music of Breaking Bad
• Chapter 7: Composition Cartel – Exclusive interviews with Vince Gilligan and executive producers, insider cues behind the special effects and production design
• Chapter 8: Payoffs – Highlights the critical-acclaim of the series and provides fans continued opportunities to engage with the series.
source:
SlashGear