Apple gives us an advanced look at some of the new emoji coming during 2017
21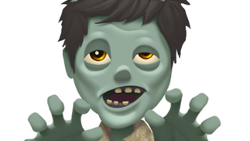 Monday was
World Emoji Day
, which was the perfect time for Apple to show off some of the new emoji it is adding this year. For iOS 11, Apple is including a breastfeeding woman, a bearded person, a woman wearing a scarf, a man practicing Yoga and more. After all, you never know when you might need an emoji of a sandwich to enhance your message about lunch. Other new emoji include coconuts, a T-Rex and a Zebra, a Zombie and an Elf. If smiley faces are your thing, new ones include an Exploding Head and a Star-Struck smiley.
The images are Apple's version of 69 new emoji approved by the Unicode Consortium. That is the non-profit organization that sets the standards globally for emoji and text. Since it is up to the software developers to create their own versions of these images, iOS and Android devices have different looking emoji.
You can expect to see the new emoji debut on iOS 11, which will start rolling out later this year, most likely when the 2017 iPhone models are released. That could be as soon as September. As for the latest Android emoji, they should be out later this year with the launch of Android "O." Google is revising all of the Android emoji this year after getting negative reviews for years about their "blob" shape.
source: Apple