Apple gets upgraded with higher target price of $374
2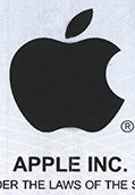 Stock traders have made a fortune with Apple over the last few years, and according to Kaufman Brothers analyst Shaw Wu, there is still more upside ahead. Wu raised his target price on Apple, currently trading near $280, to $374. That is an increase from his previous target of $350.
So what will be behind the surge in the stock? The analyst points to the "significant upside" to iPad shipments that he sees. Apple has resolved a problem it had obtaining displays for the device, which now opens up the way for the Cupertino based firm to ship 5.7 million units in the September quarter, up from previous estimates of 3.6 million. Wu says that the iPad is doing so well, it is eating slightly into MacBook sales which he has reduced from 3.9 million to 3.8 million for the quarter. The analyst has kept his iPhone estimate at 11.5 million units despite some tightness in the small-screen market.
Wu has raised his earnings estimates for Apple's September quarter from $3.74 a share to $4.12. For 2010 he sees the company earning $14.64 per share, rising to $18 in the 2011 Fiscal year.
Apple iPad Specifications
|
Review
Apple iPhone 4 Specifications
|
Review
source:
electronista