Apple gets a patent for the same tech in the LG G8
19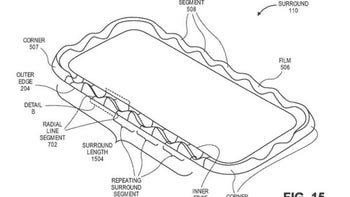 If you want to be charitable to the U.S. Patent and Trademark Office, Apple didn't quite get a patent for the same tech that's in the LG G8, but rather what looks like the logical extension to that same tech. One of the big new features of the LG G8 shown off was something called a "
Crystal Sound OLED Stereo Speaker
," which means the sound is emitted with vibrations in the display rather than a traditional speaker.
However, LG's implementation is just for the audio on phone calls whereas Apple's new patent appears takes that idea to its logical conclusion: vibrating the entire ring around the display in order to push sound. While the patent goes into dense detail about the engineering and design, it doesn't really let us know what it all means though. One of the issues with current sound-emitting display technology is that it can't get loud enough to be useful for much more than phone call audio, but it's hard to say if Apple's idea will fix that in any way.
Of course, as with all patents, there's also no telling if this will ever be put into a real-world device. And, if it is, whether or not it would be based on this patent or another iteration being worked on by Apple's team. Not to mention, it's not hard to imagine LG beating Apple to the punch, considering it already has the first step in the process in its flagship for this year.
Recommended Stories