Apple gets $100 million a year from Google in revenue share? Microsoft wants iPhone search role?
7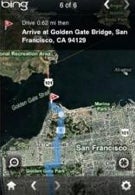 Recent word that Apple was developing its own search engine were apparently shot down when an anonymous source told Silicon Alley Insider that the Cupertino based firm scores a $100 million payday from Google to allow the company to be the iPhone's default search engine. According to the source, the payout is actually part of a revenue split between the two firms. Google also provides the native Maps application on the phone. When the first gen version of the handset came out, talks between the two tech giants to include Google Maps took only 2 weeks. Once GPS was added to the picture with the iPhone 3G, negotiations took 6 months. "Google wanted access to all sorts of data from the maps, but Appledidn't want to give it up, according to this person," the report said. The report also follows word that Microsoft and Apple were talking about ways to get the former's Bing search tool to replace Google on the iPhone.
Competition between the two companies led to the resignation of Google CEO Eric Schmidt from Apple's Board in August. Google's Android OS and Chrome OS are challengers to the iPhone and the Mac OS X. Apple last summer bought Google Maps competitor PlaceBase and sought to hire an employee who could take the iPhone Maps app to the next level. December's purchase of Quattro Wireless has now put Apple in the game of mobile advertisements. Taken all together it would truly appear that Apple and Google are each trying to grab a bit of each other's business. So the question is, will a $100 million annual payout be enough incentive for a company that had over $15 billion in revenue last quarter, to leave well enough alone? Apparently not. According to a new story by the Silicon Alley insider, Microsoft has a "high" chance of getting the search spot on the iPhone. The story quotes a report by Wall Street analyst Sandeep Agarwal at Collins Stewart who says that Microsoft is "laser focused" on search.
The Redmond based company told the analyst that for the right economics, Microsoft would want to win the search deal for the iPhone. And by "right economics" they probably mean north of $100 million.
source:
SiliconAlleyInsider
($100million payout),
SiliconAlleyInsider
(Microsoft wants iPhone search)