Apple will fight fake news where it counts
13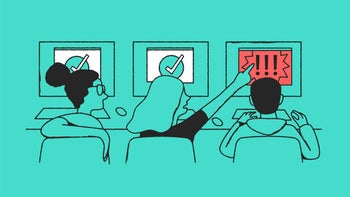 After reportedly being snubbed by NYT and WP about its upcoming aggregator subscription service, Apple isn't discouraged to fight fake news another way. It just
announced
an intitiave to front media literacy programs in the US and Europe, educating the next generation of citizen journalists on the perils of made-up stories going viral.
In short, Apple will be giving resources to three pertinent organizations - the News Literacy Project (NLP), Common Sense in the US, and Osservatorio Permanente Giovani-Editori in Italy. The NLP's virtual classroom teaches the so-called "Checkology," for instance, has already been completed by more than 124,000 students in all 50 states, plus it is active in 104 other countries besides the US.
The Common Sense organization offers a Digital Citizenship Curriculum that is taught to half of US schools already. The Osservatorio Permanente Giovani-Editori has been doing media literacy programs for 18 years and is very active in Europe, so Apple's contributions to these three fake news fighters basically covers all of the so-called West. As per James P. Steyer, founder and CEO of Common Sense:
The lack of young people's news literacy skills is a growing problem for our country. Revelations about the manipulation of news and the resulting impact on society have shed light on both the importance and scale of the issue. We need to help our students not just seek out legitimate news, but also think critically about the broader world of media and ideas. Apple shares in our mission to raise a generation of children who will thrive as learners, leaders and citizens in the digital age, and Common Sense is delighted to be part of this important effort.
Apple has the luxury to actually create sought-after items, and doesn't need to survive on trading user data, but Facebook and Google don't have that option, so getting something for nothing was bound to end up in a "you are the product" kind of arrangement when it comes to privacy and fake news dissemination. Tim Cook is a big privacy buff, but he can't stop your crazy uncle from sharing uncorroborated stories on Facebook, so Apple is doing the next best thing - helping educate the new generation not to trust news sources that have never been to journalism school.