Apple expected to announce another record quarter today, here is what to expect
25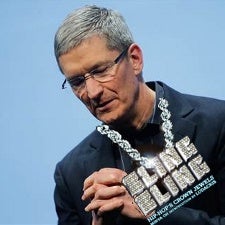 After Google's big financials release yesterday, today it's Apple's turn and this would be probably the most important announcement as everyone is expecting lots of iPhones sold and another record-shattering quarter.
What makes this quarter's earnings particularly interesting is the sharp decline in Apple stock value over the last few months. Since September, Apple stock has tanked to around $500, down from reaching nearly $700 value.
We've heard numerous reports about declining supply, demand and who knows what else for Apple devices so it'd be interesting to see how many iPhones and iPad Apple actually sold. Here is Wall Street's analysts' forecast:
Revenue: $54.58 billion
EPS: $13.34
Gross Margin: 39.5%
iPhone: 50 million
iPad: 23 million
Mac: 5 million
iPod: 12 million
March quarter revenue: $46.9 billion
March quarter EPS: $12.10
March quarter gross margin: 41.5%
Stay tuned for the actual results arriving later on today.
source:
Business Insider