Apple dominated mobile shopping in the second quarter according to new report
22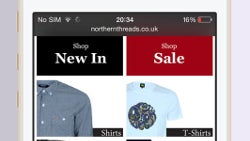 A report released by eCommerce firm Demac Media says that during the second quarter of the year, Apple devices were responsible for 97% of mobile revenue. 57% of the dollars spent on mobile shopping during the three month period came from an iPhone user. 40% came from a shopper toting an iPad and 3% came from another device. For the three month period, 81% of all mobile shoppers were using an iOS device while shopping (59% were using the iPhone and 22% were employing an iPad).
Demac Media's eCommerce Benchmark Report for Q2 2016 was based on the results of 45 retailers who are Demac customers. The report found that an online retailer shouldn't push terribly hard for a sale the first time a potential customer visits their site. The conversion rate jumps to 97% between the first and second visit to an online store. Demac concludes that the consumer's first visit to a retail website is for gathering information and research. Sales are closed on that second visit.
An online shopper using a desktop PC has an average session length of just over four minutes. Tablet users spend only 20 seconds less for each session, with the similarities no doubt due to the large sized screens employed on a tablet. Smartphone users spend a minutes less per session than tablet users. We can blame this on the smaller smartphone screen and the smaller virtual QWERTY. Screen size also plays a role in the average number of page views per session. Desktop shoppers read more than seven pages during each session. That drops to nearly six for those shopping online with a tablet and slides to 4.66 pages per session for shoppers using a phone.
Online retailers are finding that organic search is generating 39% of their traffic. These are the results found on a search engine when you punch in a specific topic, not including paid search results. Social networks are responsible for 11% of the traffic visiting online stores. Of these social networking sites, Facebook, Pinterest, and Instagram combine to generate 93% of such traffic.
source:
DemacMedia
via
RedmondPie