Apple devices to showcase media and content through "active packaging"
This article contains unofficial information.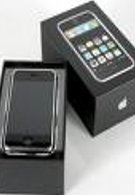 You have to just sit back and wonder about the creative geniuses over at team in Apple. Always looking to reinvent itself and take things to the next level, Apple is apparently working on an "active packaging" for their iPhone and iPod devices. Don't you hate it when you buy a brand new iPhone and find the battery completely drained? Your anticipation about playing with your new phone is diminished by the time needed to wait for it to recharge – such a bummer right? Or even yet when a new update or firmware has been released with new features and now you have to manually wait to get it. Well the team over at AppleInsider has uncovered a patent that indicates a new retail packaging is in the works to provide power and data while still inside the box. Not only will it be fully charged when you get it, it can even display media content like videos or music while still packaged to give consumers a first row view. Finally, it would also be easier to update the device after it has been wrapped up and shipped. Now the final question left to answer is just how much more are consumers going to pay now that the packaging involves additional manufacturing. Maybe this time we'll save the box and not throw it out?
source:
AppleInsider