Apple continues to put its spin on reception issue
This article contains unofficial information.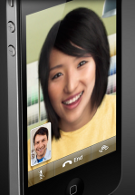 Wondering what Apple HQ is telling reps how to handle the reception problems that are haunting the new iPhone 4? First, the reps themselves are being told that the antenna on the new model is better than the one on the 3GS and the wireless performance is the best that Apple has ever shipped. Apple is telling reps that any cellphone gripped in certain spots will lower the reception on that handset. This is a comment that Apple made to the public on launch day. If this happens on a iPhone 4, simply cover the black strip on the lower left corner of the metal band. On the 3GS, cover the bottom right side with your hand to improve signal strength. The use of a case or bumper will help. Apple tells reps that they still need to troubleshoot any problem device. HQ says that warranty services should not be performed and to use the above "positioning" to answer questions. Also, Cupertino is making it clear that no free bumpers are to be given out to iPhone owners. Apple says that the issue is to be escalated if and only if the issue exists when the phone is not being held and the problem cannot be resolved. This is a fairly hard line position for Apple to take. Before the weekend,
there was talk
of a software fix; now, not a word about an OTA upgrade.
Apple iPhone 4 Specifications
source:
BGR