Apple celebrating 5 years of the App Store with timeline of milestones
23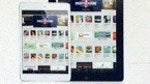 In celebration of 5 years since the Apple App Store launched, Cupertino is sending out a timeline of all the notable events in the largest mobile app catalog in the world. The timeline is sent out to the media and charts its amazing progress that brought us to the 900 000 plus apps available right now and over 50 billion app downloads.
The App Store started on the iPhone, but in 2010 with the arrival of the iPad we got to see the first tablet-optimized applications.
Along the way some apps made a splash and their arrival is separately marked. You get to see how one of the first hugely popular games was Doodle Jump, and then the almighty Angry Birds arrived. Cut The Rope and Instagram were another important milestones in the development of the App Store.
Take a look at the timeline Apple sent out right below.
source: 9to5Mac