Apple bans cryptocurrency mining apps from the iPhone
31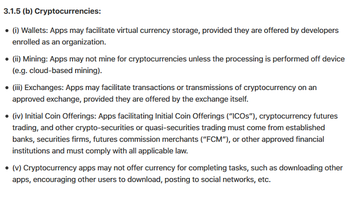 For those interested in cryptocurrencies, don't expect to do any mining via apps installed on the iPhone. Apple's new iOS guidelines, specifically listed under section 3.15 called
cryptocurrencies
, ban apps from mining for Bitcoins and other virtual currencies unless it is done off-device (via the cloud). Apps also cannot offer cryptocurrencies as a reward for performing certain tasks such as downloading certain apps, or posting messages on social media. Initial offerings including futures investments, or other securities dealing with cryptocurrencies must be offered by an established bank, securities firm or exchange. And of course, all of these must be legally offered.
Cryptocurrency mining requires special, powerful hardware that can solve complex mathematical formulas, which verify a cryptocurrency transaction in the Blockchain. There is plenty of competition to solve these equations and section 2.4 of the iOS guidelines require that apps from third party developers need to "use power efficiently," and not "rapidly drain battery, generate excessive heat, or put unnecessary strain on device resources." The section also bans apps and any third-party ads from running "unrelated background processes, such as cryptocurrency mining."
Apparently, Apple is allowing the iPhone to install apps that act as a virtual wallet, although the developers of these apps must be enrolled as an organization. Keep in mind that even
the upcoming smartphones that support Blockchain like the unannounced HTC Exodus
and the Sirin Finney will not have the power to handle cryptocurrency mining. Those phones will contain a cold-storage wallet that stores cryptocurrencies off-line, to reduce the odds of someone hacking into the wallet. Both phones will provide the latest quotes and the Exodus will reportedly allow trading of virtual currency among owners of the device.
The Blockchain, created for Bitcoin, is a de-centralized storage process where each new transaction is a block that is sent out to all members of a network for approval. Once that happens, the Block is added to the chain and the transaction is finalized. It is said to be a safer way to store financial records and is harder for hackers to break into.