Apple applies for patent that lets a device sell itself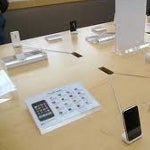 A patent application from Apple entitled "Active Electronic Media Packaging" has been discovered by
Apple Insider
. The patent is for an active packaging system that would send power and content to a device that is
sealed in its packaging and on display in a store
, so that it can show off features and display content to prospective buyers. The idea is to eliminate labels and other forms of advertising that is placed on a device and let the product sell itself.
use an RF power transmitter to send power to the packaging
, which might also double as a receiver. This eliminates the need to physically connect a power supply to each display. And by sending the power to the packaging, it means that there is no need to have the device itself recharge without a wire. This means that no additional technology would have to be built into the device which would increase its size.
"
Although typical packaging for an electronic media device may be designed to adequately protect the device from shock or damage, the packaging is extremely limited in other respects. For example, the ability to fully view or interact with the electronic media device while still inside the packaging is severely limited in most packaging designs. Although unobtrusive packaging designs have been developed, these designs typically do not allow electronic media devices to be interacted with while inside the packaging
."-Apple's patent filing
The packaging would also
allow the device to receive firmware updates while in the store
, still sealed inside the packaging. The patent was filed last December by Apple's new technologies manager Michael Rosenblatt. Rosenblatt's group filed 42 patents related to the Apple iPhone and Apple iPad over a period of two years.
source:
AppleInsider