Apple announces "Nothing" in a hilarious parody video, and other cracking skits of the iPhone 5 keynote
25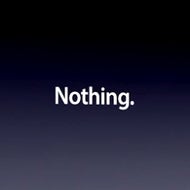 A few parody videos of
Apple's iPhone 5 announcement
have popped up, but the one where Apple announces "Nothing. Because we earned it" takes the cake. Done great in the styling of recent Apple keynotes, a guy looking suspiciously close to Phil Schiller, says that this year Cupertino has "Nothing" to announce, because "
we are good, we don't need any more of your money right now
".
Taking a well-deserved break, he continues, to focus on three favorite things at Apple - sleep, family time and golf - will allow current customers not to feel duped by every new product release, and they will close the Chinese factories where those gadgets are made, so it's a double whammy. Best thing about "Nothing" - it's free. Watch the whole skit below, and make sure you stay for the "one more thing" announcement.
We've also rounded up a few other notable parodies, with Jimmy Kimmel peddling an iPhone 5 predecessor at unsuspecting passers by, and asking them to comment on the "new features", which they do. The last one is from our loyal reader Ricky, the Android Guy (thanks for the contribution), who examines the things you can't still do on the iPhone 5. Well, taking pictures while shooting video is now possible, but the rest is zen.