Apple announces EarPods: "earphones that fit everyone"
12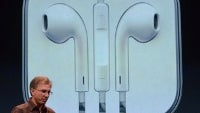 Apple has brought not just the brand new iPhone 5, but also updated its music players - the iPod nano and iPod touch - and with so many music-centric announcements, the unveiling of these brand new EarPods are not that much of a surprise. Of course, we've also seen them leak out earlier, so now that they're official let's see what stands behind this weird new design.
"Making earphones that fit for everyone would be like making shoes that are the same size that fit everyone's feet. But that's what we've tried to do," Apple chief designer Jonathan Ive explained the idea behind the EarPods.
Designed to direct sound better into the ear, the new earbuds have taken Apple 3 years of development effort.
Apple is starting to ship the new EarPods as a standalone accessory and they will be available starting from today. Of course, they are also coming bundled with the iPhone 5, the new iPod touch and new iPod nano.
source: Apple