Apple and Samsung patent wars being investigated by the EU for antitrust violations
24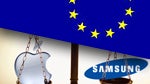 Apple and Samsung have been engaged in an
epic patent battle
on European soil. With more than 20 lawsuits in 10 different countries, EU regulators are becoming concerned that both sides may be stifling competition in the mobile sector.
EU Competition Commissioner Joaquin Almunia indicated that questions had been sent to both companies earlier this month, but the EU was still waiting on responses before deciding what course of action to pursue. Almunia said that abusing standards (as Samsung is accused of) and patents (as Apple has done) to ban products can be a "distortion of competition".
Almunia acknowledged that Samsung and Apple were hardly the only examples of intellectual property abuse, but the feeling is that these lawsuits may have a chilling impact not just on the companies involved, but may act as a deterrent to other companies that would like to enter the market.
The EU isn't making idle threats; the European Commission can fine companies up to 10% of their annual worldwide revenue if they find companies are engaging in anti-competitive behavior. For companies the size of Apple or Samsung, you'd be looking at several billion dollars each.
Could this be the external jolt that Apple and Samsung need to stop competing in the court room and get back to competing in the open market? We can hope so. If not they may get a second, pricier jolt in the year ahead.
source:
Reuters
via
Engadget