Apple partners with the Malala Fund on '12 years of free, safe, quality education' for young women
24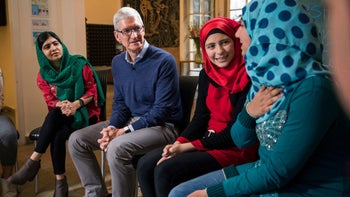 Apple has been engaging in all sort of charitable and socially engaged activities lately, and, no, we are not talking about the
$38 billion it will give to Uncle Sam
out of its good heart, and for tax purposes. The latest Apple initiative to make the world a better place includes partnering with the Malala Fund, for bettering young women's education opportunities worldwide.
If you recall, the Malala Fund is established by Malala Yousafzai, the girl who was shot by the Taliban for blogging on the BBC platform against their archaic notions about women's education. After recovering, she received the Nobel Peace Prize, and has been active in the field of young girls' rights to "
12 years of free, safe, quality education
," setting up the Malala Fund for the matter.
Apple's CEO Tim Cook recently appeared with her on a trip to Lebanon, learning about the works of her charity, and just announced that it will become a Laureate-level sponsor of her network which will help the Fund expand its educational endeavors to more than 100,000 pupils across the current Afghanistan, Pakistan, Lebanon, Turkey and Nigeria points of focus, but also add India, as well as Latin America in the fold. Mr Cook had the following encouraging words to say about Apple's new charity darling:
We believe that education is a great equalizing force, and we share Malala Fund's commitment to give every girl an opportunity to go to school. Malala is a courageous advocate for equality. She's one of the most inspiring figures of our time, and we are honored to help her extend the important work she is doing to empower girls around the world.