Apple and Google are the top two global brands on the BrandZ list of the top 100
12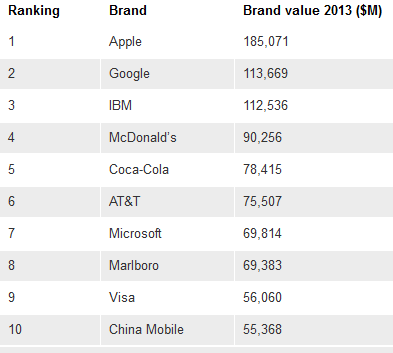 Apple and Google were the top two global brands according to the BrandZ list
Of the top 100 global brand names in the world as measured by the BrandZ ranking, it was
Apple
and
Google
that were on top of the charts for 2013. Apple's brand had a value of $185 billion followed by Google with a valuation of $113 billion. It was the latter than closed the gap a bit with a 5% gain from last year while Apple's name was worth just 1% more over the 2012 figure And to show how the current tech leaders are beginning to flex their muscles, Google's second place finish meant that it leapfrogged over IBM as Big Blue dropped a peg to third. The IBM brand dropped 3% in value to $112 billion in 2013.
AT&T rose from 8th place last year to 6th this year as the global value of its brand rose 10% to $75 billion. The world's largest carrier by subscribers, China Mobile, was in 10th place again, despite a rise of 18% to $55.4 billion in the workd-wide value of its brand. The largest U.S. carrier,Verizon, dropped back three places to 12th as the value of the Verizon name rose 8% from last year to $53 billion.
Smartphone stud Samsung took off like a rocket, rising from 55th to number 30. Thanks to huge hits like the
Samsung Galaxy S III
and the
Samsung GALAXY Note II
, the value of the Samsung brand world-wide
surged 51%
to $21.4 billion. The value of the top 100 brands grew 7% over the year to $2.6 trillion.
source: MarketingWeek (
1
). (
2
) via
SlashGear